Patient Testimonials
Janet, North Caroliona, July 2020

My name is Janet, I want to make this $100.00 donation in honor of Doctor Ivan Garcia of Omni Eye Specialaist Center, Maryland. I went to Dr. Garcia in 2014 when I needed to have cataract surgery in both eyes. He gladly accepted me as his patient and he operated on my eyes in 2014 and 2015 without asking for payment. He did it free of charge.

I have not forgotten his kindness and his generosity and always pray for him and his family. I visited many other doctors before him and none agreed to help me unless I paid thousands of dollars. I do not have the money and it was becoming too difficult for me to read my Bible. Dr. Garcia has given me new eyes since then.

I will forever thank him, our God who gave him such knowledge, and the company has become established as Mission Cataract USA. I do not have much money, I wish I could give more.

General thanks to the doctors participating in Mission Cataract, and Dr. Garcia: Thank you.

Yours truly,

Mrs. Janet A.

---


Anna, July 2020

"Thank you all ever so much for your blessed gift of sight. You will never know just how much I appreciate what you have done for me...total blindness in my left eye and mostly blind in my right eye...

I had almost given up hope of ever getting the cararacts removed. Thanks so much."


---

Alissa, Ohio; June 2020
I woke up one day in April of 2020 and my left eye was completely blurred. My right eye was also very blurry but I could still make out images. I went to the eye doctor thinkinh I had possibly torn soemthing in my left eye to make it do blurry all of a sudden. While at the eye doctor appointment, they notified me that I had Cataracts in both of my eyes--the one in my left eye they called a "whopper." I was initially fearful because I had no idea what this meant for me. I also knew that In could not afford any insurance that had been offered at my job and the open enrollment dates has long gone to sign up for any health insurance. I knew that I could barely see anything and something needed to happen quickly to get this taken care of or I could possibly lose all vision eventually.

I wasnt able to drive anymore and all of a sudden simple house dutties at home were growing more and more challenging with limited vision I also have teenagers in my home that are in just about every sport and to not be able to run them around everywhere was heartbreaking. I am the sole bread-winner of our household as well, and do 95% of my job on a computer, so that was difficult and I ended up needing to hold a magnifying glass up to the computer screen just to try and do my job. I had saw no end in sight as I had no idea how I was going to pay for this surgery.

On day, in May, my sister sent me a link to Mission Cataract USA's website and she told me that she came accross the website while Googling cataracts. I looked into it and reached out through the website to see if this program was something I could be apart of. Mission Cataract messaged me back right away and gave me the name of a doctor in my state who had previously been a part of their program. Long story short, I was not able to set a surgery up with any of the doctors listed, so Mission Cataract USA offered to pay for my surgery! I was completely blown away by their generosity. They were the answer to my prayers. I had no idea how I could ever afford the cost of this surgery out of pocket.

Because of Mission Cataract USA, I recently had cataract surgery in both eyes and can see better than I ever have before. I feel like I have a new lease on life. I am able to drive again and do my job and al of my duties as a mother with ease now. Mission Cataract USA will never know just how truly grateful I am for their wonderful organization and how they helped my and my family during this difficult time.

Sincerely,

Alissa
---

Arthur, Florida; February 2020



Hello, my name is Arthur Townes. I am 22 years old. My birthday is July 5, 1997. In July 2017 my father passed away the day before my birthday. My life went Into a downward spiral that I could not control. My girlfriend of six years and I had major issues in our relationship, My mom and I fell out, my siblings and I fell out, and my mom ended up being with one of my father's best friends almost a year after his death.Life couldn't of been more hectic. I wasn't able to continue school due to the fact that financial aid stop funding me because I drop classes to take care of my father during his final months of living. Following His death I attempted to take care of myself more. I went and tried to use work insurance to do a routine check ups. After a visitation with my normal optometrist. I found out that I was going blind. After the exam I was told that I needed to get major insurance. Because the work insurance was only supplemental. That insurance had lapsed. The surgery cost would've been $4300. I wasn't able to see very well at all so I couldn't work full time. I had just about given up and I started researching probono doctors and i couldn't find anyone in Florida. I reached out to Mission cataracts and I was blessed. I am able to see once again and I can spread my wings and fly away to a new experience and finally start moving forward. This was created by me at my studio. My Label name and my artist name is I.G.Y.F. Which stands for I got you fam. And mission cataracts definitely had my back the whole way.
---
Mandy, Maine; October 2019

"Where do I begin? I can SEE!!! It's amazing! I can drive, see people at the grocery store, and I'm applying for jobs as we speak! And guess what--there are LEAVES on the trees! I put my last drops in the second eye just days ago. I don't know how or why I was fortunate enough to find MCUSA but it has transformed my life. Michael and I thank you and the organization from the bottom of our hearts. Here is a picture of me, so you can see that you helped an actual person lol!"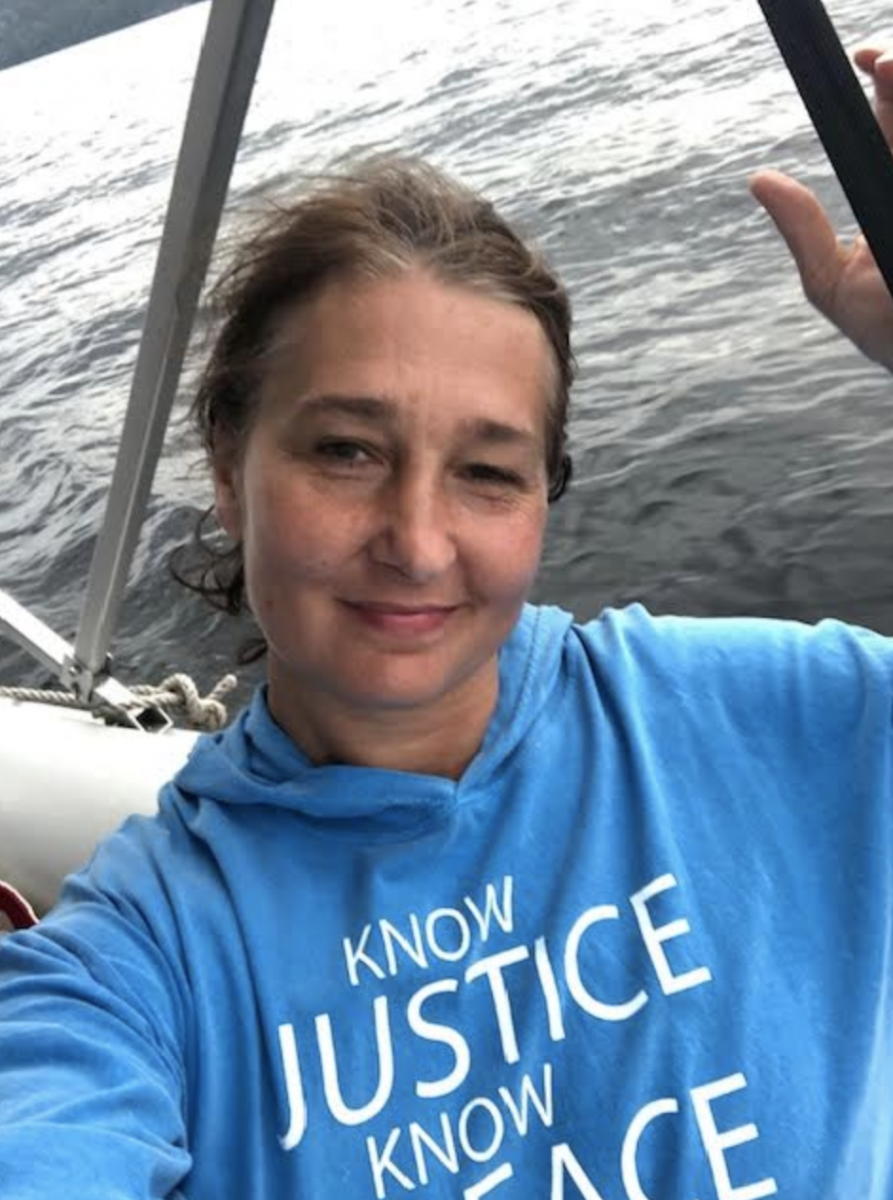 ---
Larry, Indiana; July 2019

"Words cannot express my joy! God bless Mission Cataract USA! I can drive again. I can see at the grocery store. I see leaves, flowers, faces! It's wonderful! Thank you."
---
Melody, New York; February 2019
"I can see without glasses now and haven't been able to do that since I was 6 years old. I cannot begin to thank Mission Cataract USA for your help. You have no idea how elated I am and how much this has meant to me. I am amazed at how much clearer and brighter things are. It is a wonderful experience."
---
Kathleen, North Carolina; January 2019
"My eyesight is absolutely wonderful! My cataracts were so thick I was legally blind and without the surgery, I would most certainly be permanently blind. Mission Cataract took care of me and for that, I am truly grateful from the bottom of my heart."
---
Lois, South Carolina; January 2019
"I want to thank Mission Cataract USA for bringing me out of darkness into the light! Your financial help with my surgery made a great difference in my life. I don't have to wear glasses anymore, and I've worn them since 1960. It feels like a miracle. Your generosity has changed my life for the better!"
---
Glenda, Texas; July 2018
"I've been looking for a better way to say "Thank You" and make you understand the depth of my appreciation, but I always come back to the biggest "Thank You" I could imagine. I just had my last checkup and can see 20/25. I am so happy and have never seen colors and shapes so clearly. I keep bottled water in a basket in the kitchen and one morning when I turned on the light and almost cried because the water and the bottles were sparkling and so beautiful. Every day has been this way since the first surgery. This is truly a miracle for me."
---
Kathy, North Carolina
"I had cataract surgery recently in July, and it was done by Dr. Harris @ Graystone Eye in Hickory, N.C. Thanks for helping me with this! The surgery went well, and I can see again clearly with two eyes! I am about to "graduate" per Dr. Harris, hopefully, next Fri.-? last visit. Thanks again for your help!"
---
Ron, New Jersey
"Thank you for your interest and encouragement... The surgery went without a hitch. Dr. Spear is a relaxed and self-assured surgeon who inspires confidence - a very generous man indeed. I was more than a little nervous at first [I've never had surgery in my life] but the attending nurses who prepped me for surgery assured me that there was nothing to worry about. Needless to say, I was amazed afterward at how well I could see again. On my post-surgery follow-up visit, I was told that there was very little inflammation on my eye and that it was healing rather well for barely a day after surgery. The examining physician was shocked to find from my chart that my vision had been 2400 prior to surgery. All in all, my experience at the Northern New Jersey Eye Institute has been very positive. My pre-surgery checkup was very thorough and I was highly impressed with all the technology being used. I was treated with respect and without any prejudice due to my status as a Mission Cataract sponsored patient. Again, thank you Sheree and everyone at Mission Cataract USA for making it all possible."
---